The Radiophool Page
Some of the radios in my collection - Most schematics are from
Nostalgia Air and Beitman's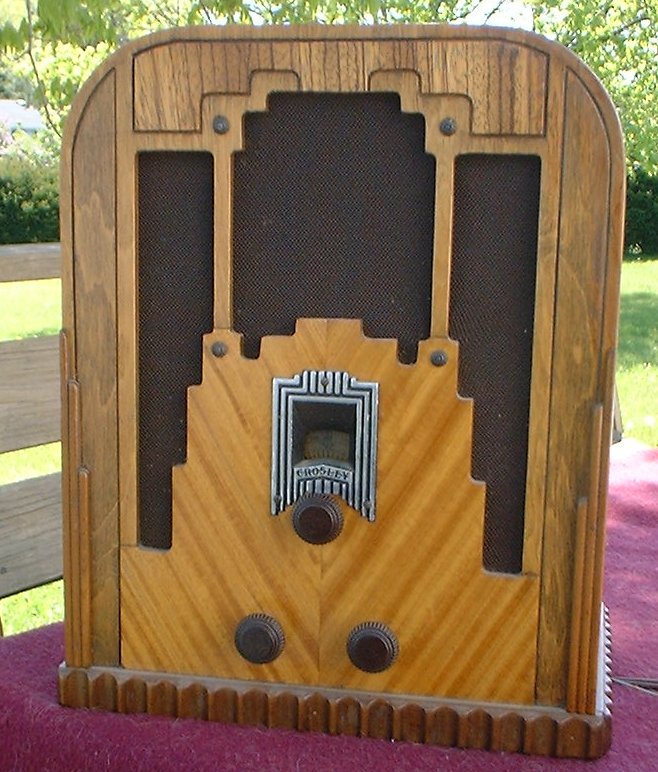 1934 or so Crosley 167 - NOT original finish, but I like it.
Needs alignment, at least. When I get a spare set of tubes, I'll
look it over. It's the later version with 2A5 output. Schematic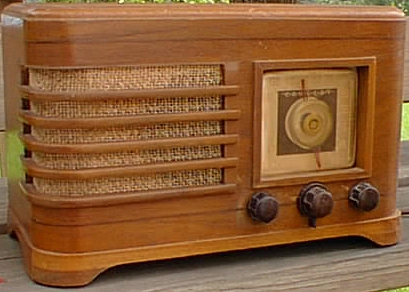 1946 Crosley 56TN-L ("L" for Loktal tubes) AM/SW
Dial is marked "American" and "Overseas."
Schematic - or at least one that's close...
Here's the Crosley Service Info for the other 56TN
version (with octal tubes)
Stopped at a garage sale and found this Philco 38-12
and a speaker. I had one of these about 35 years ago -
it was my first radio. (My parents got it - used - shortly after
they were married.) I powered it up on the variac, and it
played without any hum, receiving a few local stations.
There was a RCA #78 tube in it, with a repair tag dating
it to 1939. I had a Philco 78, so it now has "Only Genuine
Philco Tubes" like it left the factory in 1937.
Schematic Service Bulletin part 1 part 2 - thanks to Rick D.!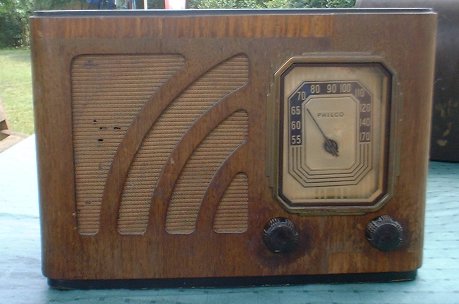 Thern was no loop antenna on the one I had - this one
is modified (bet the antenna coil was open...):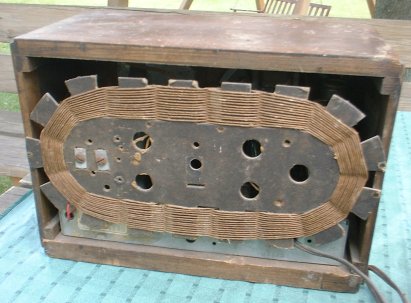 Here's the speaker: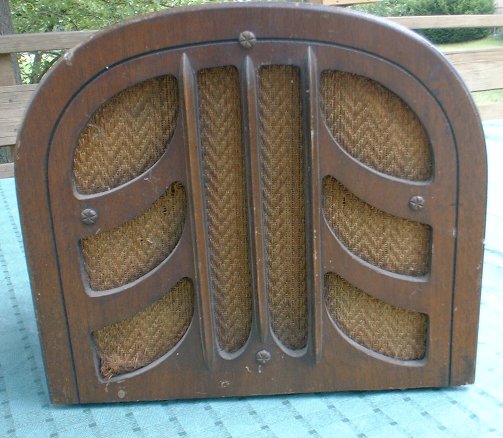 I am told that this is the top half of a GE radio - take a look:
GE E-61 (by the way, if you are trying to ID an old radio, start
with the Archives at Radio Attic.
1942 Emerson FL 416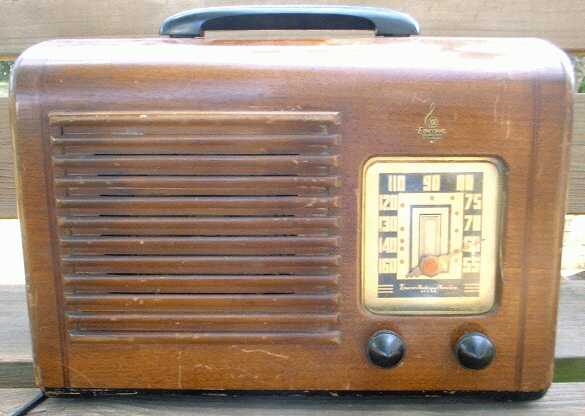 1951 Silvertone model 10 clock radio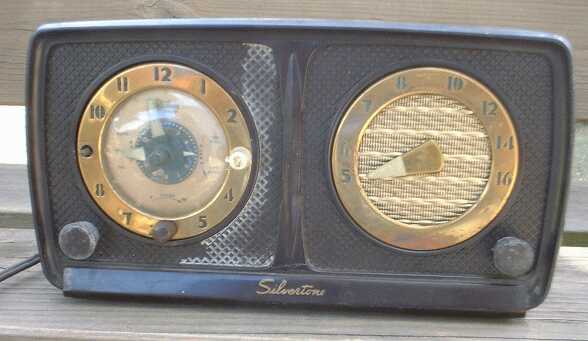 1952 GE 408 AM/FM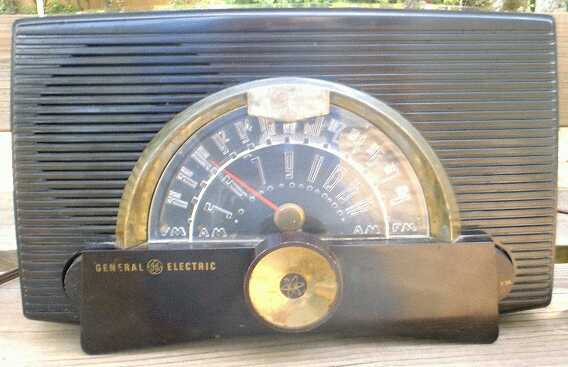 Love that Atomic dial!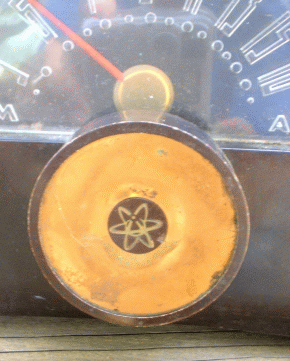 1955 Motorola 55B1U battery/AC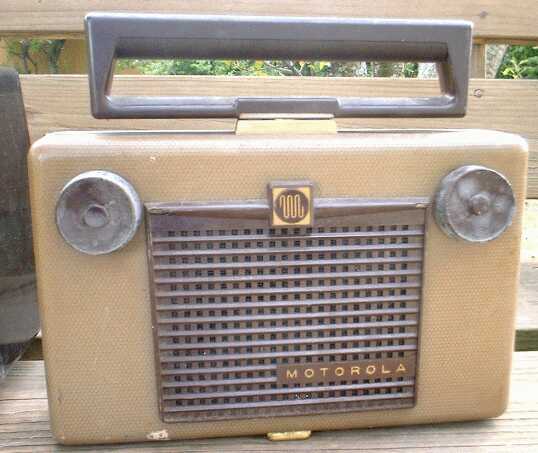 1955 Zenith T-825 SchematicAlignment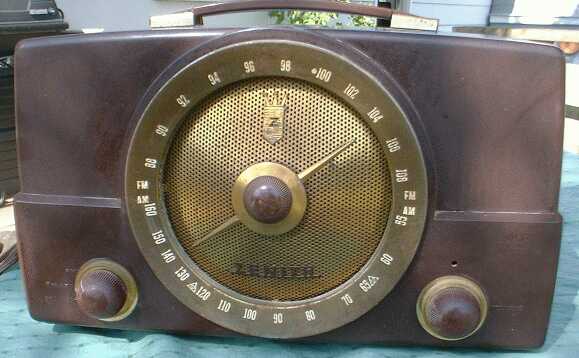 This one is not just a radio - it's an icon - the Philco 70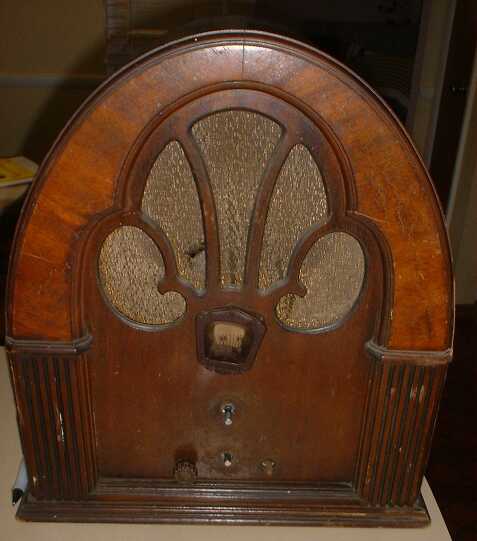 I got this one from Tim Polniak, as mentioned on the Audio page. Needs grille cloth, knobs (Larry Bordonaro has them for $5 each) and some SERIOUS veneer work, as you can see below. The missing rear arch support I'll have to make, though I might be able to get one from Dick Oliver, who makes repro Philco cabinets and parts.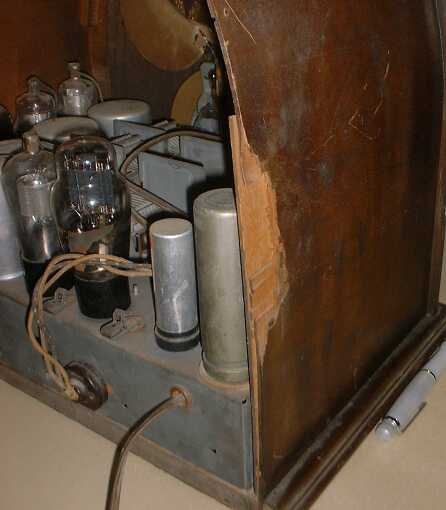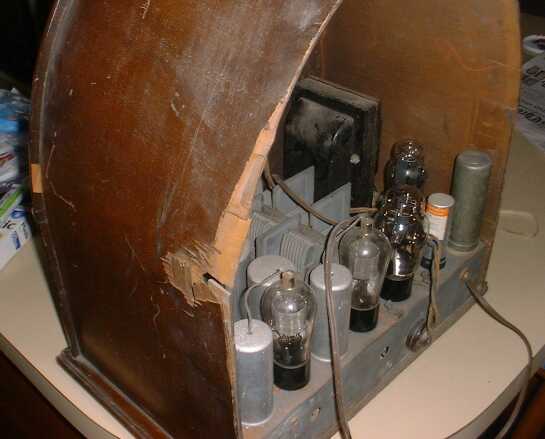 1948 Airline 84-BR-1535 or a similar number (there were many in this cabinet)
I'm guessing 1948 or later, since it's miniature tubes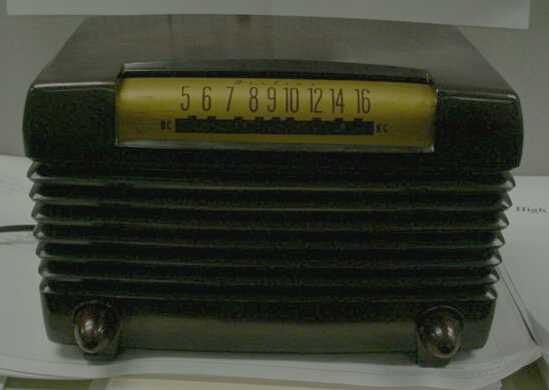 1960 Zenith C725C - schematic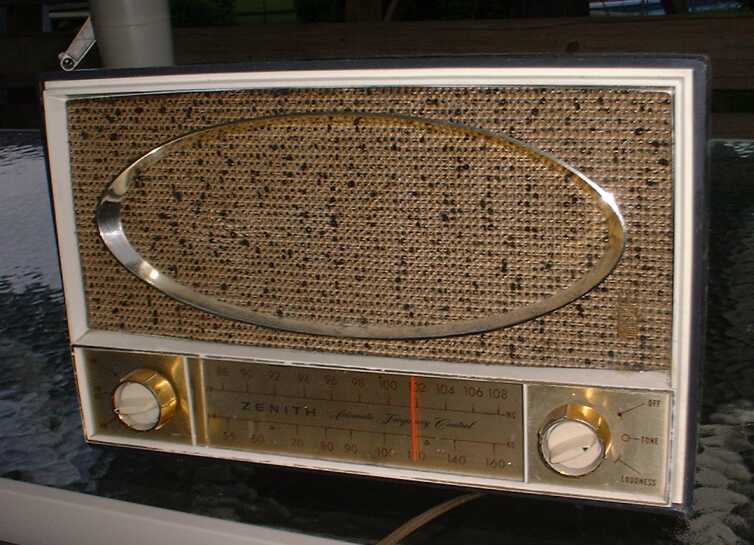 196? Sears Silvertone 5022 Stereo AM/FM Schematic for similar model 4019: 1 2
Schematic (c) 1964 Howard W. Sams and Co., reproduced with permission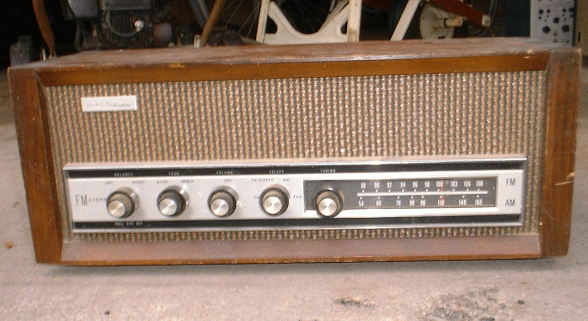 photos I haven't gotten around to yet:
1938 Emerson BF 191
1946 GE 221 AM/SW
1946 Zenith 8H061
1952 Zenith J615Y
1964 Lafayette HA-63
AIWA AM/FM/SW 12 Transistor